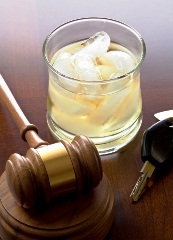 Foto: Getty Images
Article 165 of Brazilian Traffic Code considers as severe violation to drive under the influence of alcohol levels higher than six decigrams per liter of blood. The penalty for this infraction is a fine, vehicle apprehension and suspension of the right to drive.1

Alcohol usage is responsible for serious traffic accidents, often resulting in the death of the drunk person and bystanders. US epidemiological studies related to the consequences of alcohol consumption in traffic2, have found the following:

1. Of all car accidents that happened in the USA in 2002 involving the use of alcohol, 4% resulted in death and 42% in serious injuries. As for car accidents not involving the use of alcoho, 0.6% resulted in death and 31% in serious injuries.
2. Males have greater chances to be involved in fatal accidents. In 2002, 78% of the persons who died in car accidents were men, and 46% of the deaths were related to alcohol consumption.
3. Most of the fatalities related to alcohol consumption involve people between 21 and 45 years old. The use of alcohol is present in 23% of the deaths involving young people under 16, 37% of the deaths involve 16 to 20-year old persons, 57% of the deaths involve 21 to 29-year old individuals, 53% of the deaths involve 30 to 45 year-old individuals and 38% of the death involve 46 to 64 year-old individuals.
4. Traffic accidents resulting in death occur most frequently at night and on weekends. 77% of fatal accidents occur between 6 pm and 6 am.

Although there are no national statistics in Brazil, regional studies on the matter appoint the use of alcoholic beverages as one of the main causes of death due to external causes. A study reviewing all autopsies performed in 1999 (January-December) in victims of traffic accidents done by the São Paulo Institute of Legal Medicine (IML-SP) shows that approximately 50% of such casualties were related to alcohol usage. Just like the US data, this type of occurrence involves mostly men.
Table 1 – Casualties for External Causes in 1999
Autopsied in the IML - SP
___________________________

Death Type

No. of casualties

%

Homicides

5 284

49,16

Traffic Accidents

2 360

21,96

Suspected Death

1 232

11,46

Others

1 045

09,72

Without History

420

03,91

Suicides

408

03,80

Total

10 749

100,00

___________________________
Source IML - Headquarters - São Paulo (1999)
Table 2 – Deaths in traffic accidents in relation to positive results for alcohol in blood and the sex of the victim
| | | | |
| --- | --- | --- | --- |
| Alcohol in Blood | General Group | Men | Women* |
| Negative | 1 251 (53%) | 1058 (50,1%) | 193 (77,2%) |
| Positive | 1 109 (47%) | 1052 (49,9%) | 57 (22,8%) |
| Total | 2 360 | 2110 | 250 |
Source IML - Headquarters - São Paulo
Note: 2110 male casualties = 89.41% of all accidents
250 female casualties =10.59% of all accidents
Table 3 – Statistical analysis of the age of fatal victims in 1999 issued by IML-SP distributed by sex and alcohol in blood
Age

Men

Women

General Group

n= 2110

Negative

n= 1058

Positive

n= 1052

General Group

n= 250

Negative *

n= 193

Positive *

N= 57

Average

36,2

36,5

35,9

41,3

43,2

27,5

Bias

15,3

17,5

12,7

19,2

19,9

11,5

Average

34

32

34

39

42,5

34
(* p<0,05 = age of female victims with positive alcohol in blood is different from the age of victims with negative alcohol in blood)