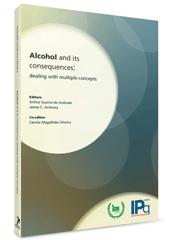 Alcohol use disorders, like alcohol abuse and dependence, have for a long time been a subject of discussion in the areas of public health and medicine, mostly because of their harm to individuals, families and society. However, alcohol abuse and dependence are only a small fraction of alcohol-related problems.

In the last decades, other consumption patterns, like moderate use, heavy use and binge drinking, have increased in importance due to the association of moderate use with a reduction of morbimortality resultant from the cardioprotector effects of alcohol and the risk situations involving heavy and binge drinking, such as traffic accidents, violence, unprotected sex and others.

The goal of "Alcohol and its consequences: dealing with multiple concepts" is to gather concepts and results derived from recent scientific studies on alcohol consumption patterns and the acute and chronic consequences related to these patterns. What is presented in this book are the findings of leading experts in this area from around the world.

The book is available in two languages, Portuguese and English, and was a result of a partnership between two recognized institutions - the Institute of Psychiatry from the University of São Paulo Medical School (IPq-HCFMUSP) and the European NGO International Council on Alcohol and Addictions (ICAA). Two renowned researchers edited this work: James C. Anthony, Professor of Epidemiology at Michigan State University, USA, and Arthur Guerra de Andrade, Psychiatrist, Professor at the University of São Paulo Medical School and Executive Chairman of the Center for Information on Health and Alcohol (CISA), Brazil.

James C. Anthony is one of the greatest epidemiologists in the area of alcohol and health. He was a Professor at Johns Hopkins Bloomberg School of Public Health until 2003 and is currently a Professor of Epidemiology at Michigan State University. His research accomplishments appear in more than 300 published articles and books, and have been acclaimed awards and honors. Indeed, he has been praised as a 'highly influential' contributor to the research literature of 'psychology/psychiatry' and 'general social sciences' based on epidemiological studies of psychiatric and other behavioral disturbances.

This publication, which presents several information and results from the most recent researches about alcohol consumption in many regions of the world, is organized in nine chapters containing relevant topics as: world epidemiological data on harmful alcohol consumption; principal long term consequences related to moderate consumption of alcohol; alcohol dependence; harmful alcohol consumption among students; alcohol consumption patterns and consequences of heavy episodic drinking in Brazil; alcohol and HIV/AIDS; alcohol and violence; alcohol and motor vehicles; and alcohol abuse in pregnancy.

Besides the participation of Arthur Guerra de Andrade, the present publication also counts with the collaboration of other specialists, such as Camila Magalhães Silveira, Coordinator of CISA, co-editor and author of 2 chapters in this book, and many researchers from Brazil and international institutions: André Malbergier, Carla Storr, Danilo Baltieri, Fernanda Cortez, Gabriel Andreuccetti, Hermann Grinfeld, Julio Ponce, Laura Andrade, Luciana Cardoso, Lúcio Garcia de Oliveira, Maria Carmem Viana, Salme Ahlström, Silvia Martins, Wolfgang Heckmann, Vilma Leyton and Yuan-Pang Wang - all of them related to alcohol and health studies.

To download the complete version of the book in PDF format, divided by chapters, select the links below:
To cite this book, use:
Andrade AG, Anthony JC, Silveira CM. Alcohol and its consequences: dealing with multiple concepts. Barueri, SP: Minha Editora, 2009.
For more information about ordering printed copies of this book, please click here.