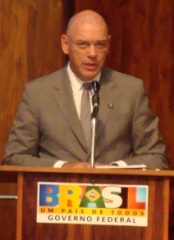 1. What is the relevance of the recently published report entitled "The First National Survey on the Use of Alcohol, Tobacco and Other Drugs among College Students from the 27 Brazilian state capitals"?

Epidemiological studies have demonstrated that drug use prevalence is high among young adults (18-24 years-old), which is also considered a more vulnerable group to the negative consequences of this use, such as interpersonal violence, traffic accidents and unprotected sex. This new survey was based on the evaluation of a representative sample of Brazilian college students, in regards to estimations on the use prevalence (lifetime, in the past 12 months and in the past 30 days) and consumption patterns of alcohol, tobacco and other drugs, as well as the screening for substance use disorders (abuse and dependence – risky drinking and high-risk drinking, respectively), risk behavior, psychological and persecutory symptoms, and depression.
The results derived from this innovative research may help the planning and development of public policies aiming to reduce the harmful consequences of drug use by college students, and it could also be useful for specific interventions towards the control of drug use in Brazil as whole.

2. What was the methodology applied in this survey?

This survey was an epidemiologic study with a cross-sectional design based on a representative sample of Brazilian undergraduate students. We interviewed 12,586 college students that were officially registered in 2009 academic year, in 100 public and private universities, from 26 Brazilian state capitals and the Federal District. In addition, information on the behavior and attitudes related to drug use among students from the University of São Paulo campuses located in the city of São Paulo (including the Health and Law campuses) were collected, comprising a total sample of almost 18,000 students, which is a sample size similar to other international surveys on the same subject.

3. Regarding the results on alcohol use, which can be seen as a great public health issue?

These data evidenced that alcohol consumption was frequent among college students. For example, the lifetime prevalence of alcohol use was 86.2%, and 25.3% of the sample reported binge drinking in the last 30 days. Moreover, half of the subjects reported their first alcohol use before age 16 years.
One of the most striking observations was that 19.2% and 2.6% of the students were screened positive for alcohol abuse (risky drinking) and dependence (high-risk drinking), respectively.
The survey also evidenced a high prevalence of use of 2 or more substances in the last 30 days (18.7%) and a lifetime prevalence of 43.4% for alcohol consumption in association with another substance, with alcohol-energy drinks, alcohol-tobacco, alcohol-cannabis, alcohol-cocaine, and alcohol-ecstasy being the most commonly reported associations (in this order).
These results are alarming since the consumption pattern called binge drinking can cause serious harm to health and early alcohol use is associated with being more likely to develop alcohol dependence. Additionally, the harmful use of alcohol is related to traffic accidents, sexual risk behaviors, academic failure, injuries, and other negative consequences.

4. In your opinion, what are the great difficulties in conducting national surveys on the use of alcohol and/or other drugs in Brazil?

Like any scientific research, we had some difficulties during the field work. However, in general, the survey was considered successful due to the establishment of a good relationship between the research staff and the universities. Almost 90% of the invited universities participated in the study, which demonstrates that drug use is a great concern for many society segments. Moreover, the mean response rate was 70%, which is an admissible rate for large samples and it is also comparable to North American studies on this subject.
It is noteworthy that this kind of research is still rare, even in developed countries, which places our research in a high-standard level within Latin America. We also want to continue this research with a longitudinal design, which will enable the application and evaluation of interventional strategies nationally, thus creating a customized national research model, without the need of readapting the international models. The first step has been taken and we must work hard on these results, then the following steps will come naturally.