The advanced search allows a more detailed search on the content posted on this site. Use the filters available and good research!
"How to talk to your children about drinking" Video ("Como falar sobre uso de álcool com seus filhos")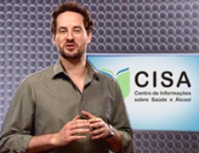 Presented by the brazilian actor Dan Stulbach and CISA's Executive President, Dr. Arthur Guerra, this video shows the effects of harmful alcohol use in adolescence and provides support to parents with their reactions when facing this issue (portuguese version).