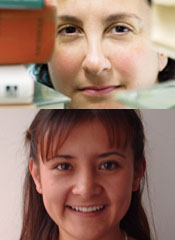 Erica Frank is a Professor and Canada Research Chair at the School of Population and Public Health of the University of British Columbia. She is also Professor and Senior Advisor of the Preventive Medicine Residency Program Department of Family and Preventive Medicine at the Emory Univ. School of Medicine.
Carolina Segura is a Postdoctoral Fellow at the University of British Columbia - School of population and Public Health. Dr Segura has been working in healthy lifestyle behaviors research.
Interview with Erica Frank and Carolina Segura
Subject: "Alcohol consumption and medical students"
1. Are the quality and frequency of alcohol counseling, among medical students, associated with their own pattern of alcohol consumption? If so, how does that affect health care as a whole?
Most studies among U.S Physicians and medical students and Colombian medical students (South America) have shown a strong association between personal alcohol habits and their corresponding attitudes and practices toward alcohol counseling.
Excessive drinking and binge drinking among US medical students is common, though somewhat less prevalent than among comparably aged adults in the US general population. Few students usually discussed alcohol use with patients, but greater training and confidence about alcohol counseling predicted both practicing and believing in the relevance of alcohol counseling. Medical schools should consider routinely training students to screen and counsel patients for alcohol misuse and consider discouraging excessive drinking among students.
This finding suggests that healthy physicians will provide more and more effective preventive counseling to their patients. It would be very beneficial it the whole health care system would promote healthy habits among physicians.
2. In your opinion, what are the reasons which could best explain the high prevalence of harmful alcohol consumption among medical students?
It's actually lower than the consumption of their same-age peers – and that is it the appropriate reference group, not an imagined ideal.
3. Is there any known interventions aimed specifically at this population to prevent harmful alcohol consumption?
There have not yet been any successful interventions to reduce alcohol consumption among medical students – unlike our successful interventions on diet, exercise, and smoking, we actually managed to antagonize medical students' regarding their counseling – because they became angry, we believe, as they thought we were puritanically insisting that they should abstain totally from drinking.